Ah, the new year. A time to make tons of resolutions that you may or may not keep, get a fresh cut, and embrace the possibilities that a clean, 12-month slate presents. While you might be looking at giving your wardrobe, job, or health a refresh, it's also a good time to update your Instagram grid and strategy.
Some quick Instagram facts:
Engagement with brands on Instagram is 10 times higher than Facebook, 54 times higher than Pinterest, and 84 times higher than Twitter
Instagram now has 400 million active users
Over 60% of users log in daily, making it the second most engaged network after Facebook
30% of internet users are now on Instagram
In the coming weeks, you can make subtle changes that will help your Instagram profile stand out from the rest, from adopting a new color scheme to pre-planning your rows. If you're going for influencer status, these small updates can help get you there. Even if you're just hoping to earn a few more Likes from followers or to increase your brand's followiing, the same holds true.
After all, new year, new grid. That's how the saying goes, right?
Pick A Subject & Stick To It
Your posts will look more unified and you'll show your interests more clearly if you can abide by a specific theme or category.
"People want to know you are an expert in your field, whatever field that may be," says celeb hair stylist Kristin Ess. "If you have stuff you want to post that is not within that, try putting it into your Instagram stories so that it doesn't have to live on your page!"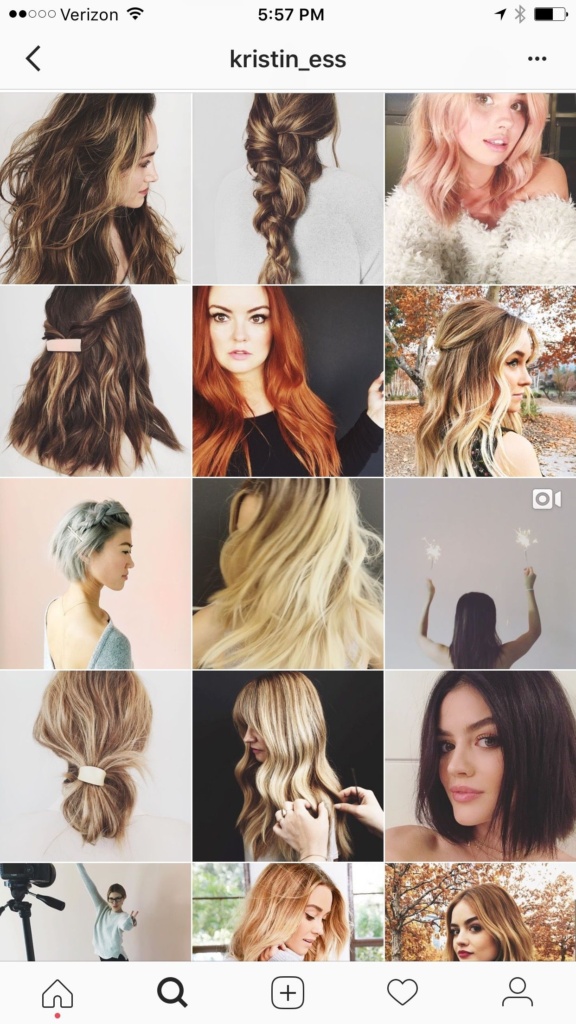 Intersperse Quotes
Ess uses a quote every 10 or 20 posts to create a consistent pattern on her grid. Try using an app like Word Swag, which helps you find quotes and lets you choose your font and customize layouts for posts. Another option is Canva, which lets you place your quote on a professionally designed template.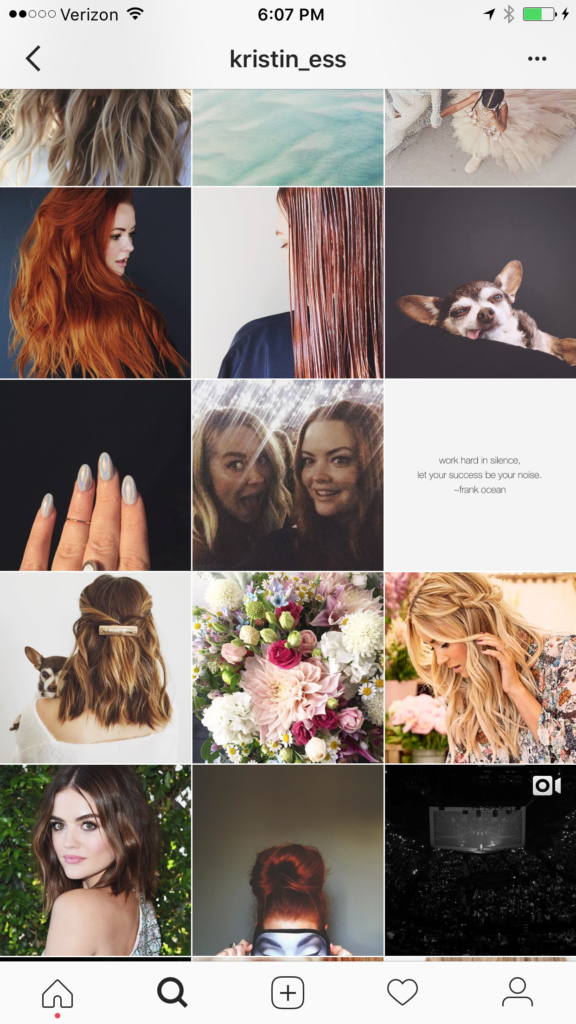 "Frame" A Photo With Words
You can also use quotes to effectively frame a photo and make it stand out more than it might otherwise. Post a quote on the left and right borders of your grid and a photo in between. If you want to plan ahead and see how it will look before posting, try a grid-organizing app like Preview.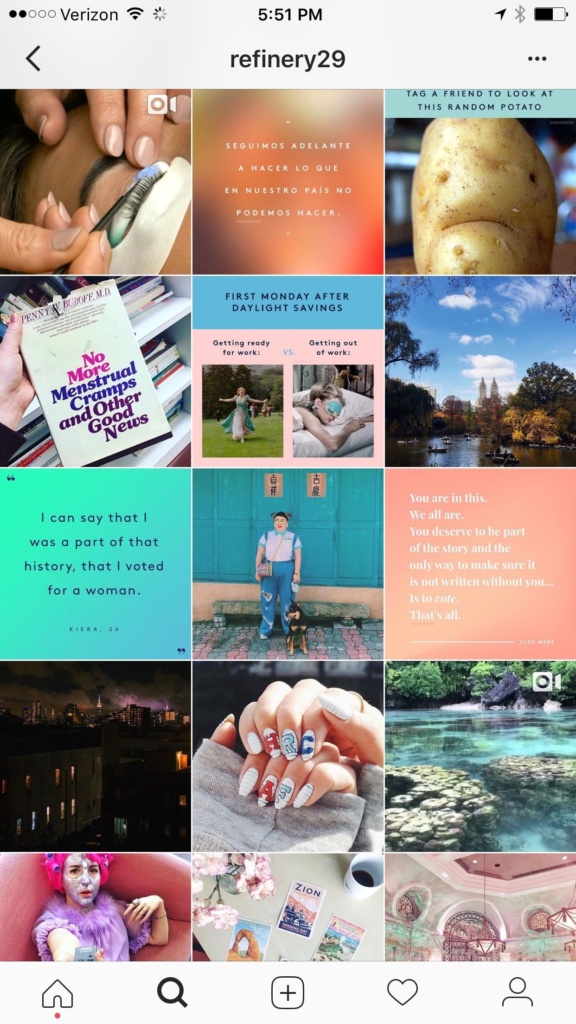 Align Quotes In One Column
This one also takes a bit of advance planning. Place your quotes on the same background — whether it's a singular color or an image — and then arrange them along the left, middle, or right side of your grid. Even if you don't stick to a theme in your images, this will help to bring your whole profile together as one.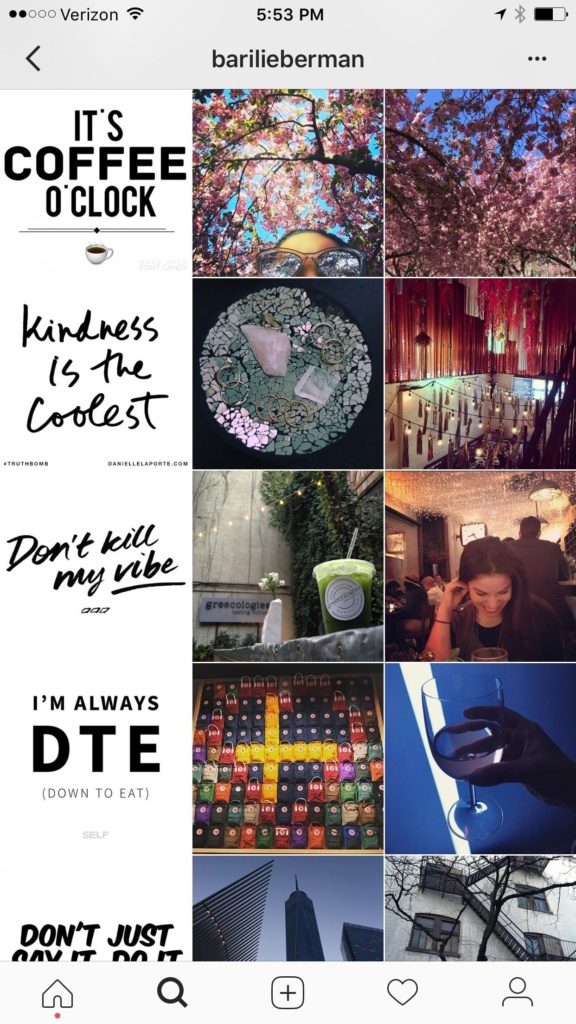 Abide By The Rule Of Three
If you're not going to focus on only one thing throughout, at least focus on one row at a time.
"While each individual photo matters, it's all about getting your rows right and ensuring the three images on your top line are in sync both color-wise and visually," says Jaclyn Johnson, founder of the Create & Cultivate conference series.
Try Planoly, an app that lets you put images on a grid and rearrange as you please until you get the rows of three that look best to you.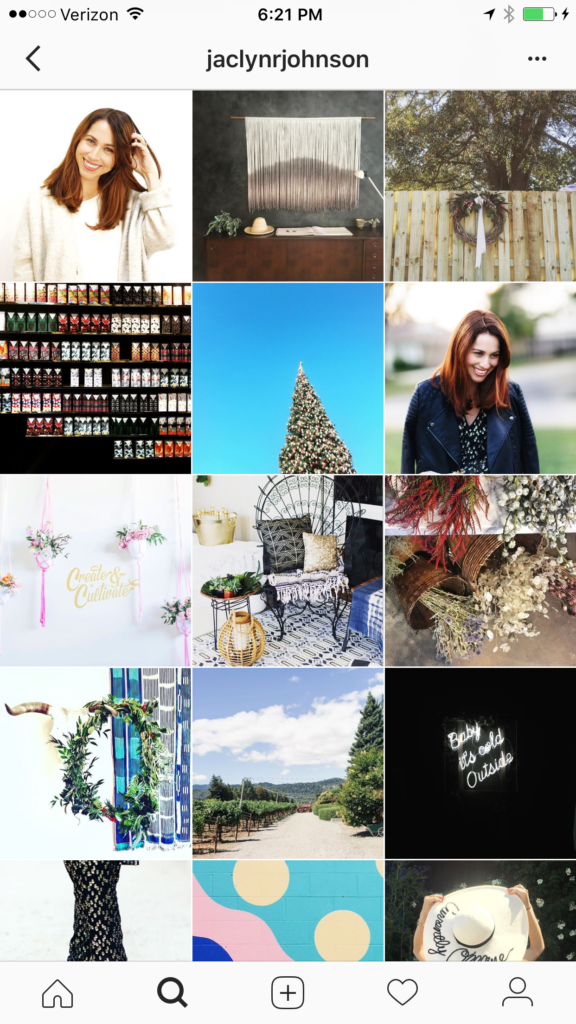 Make A Scene (The Good Kind)
Show off what happened during a night out by creating a scene in three parts across one row of your grid. It's one way to make your feed tell a story. In this case, a series of very short, visual stories.
"Make [Instagram] about family, friends, excursions — what you're doing and where you're going," says Claire Sulmers, editor-in-chief of Fashion Bomb Daily.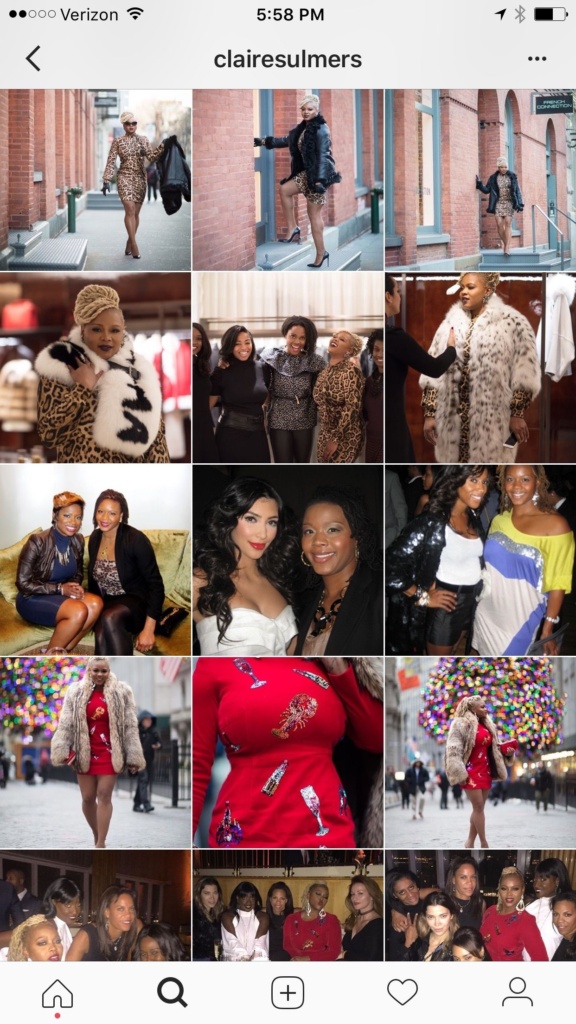 Skip "Full" Photos
In the past, you might have seen influencers or celebs use six or more tiles of their grid for one photo, with each post making up a part of that image. Instead of doing that, make each image worth your followers' interest.
"A scrolling mood board is always chic, but each individual image must stand on its own," says Karen Robinovitz, cofounder of influencer management agency Digital Brand Architects.
This will also help to make the stories you tell across each row more interesting.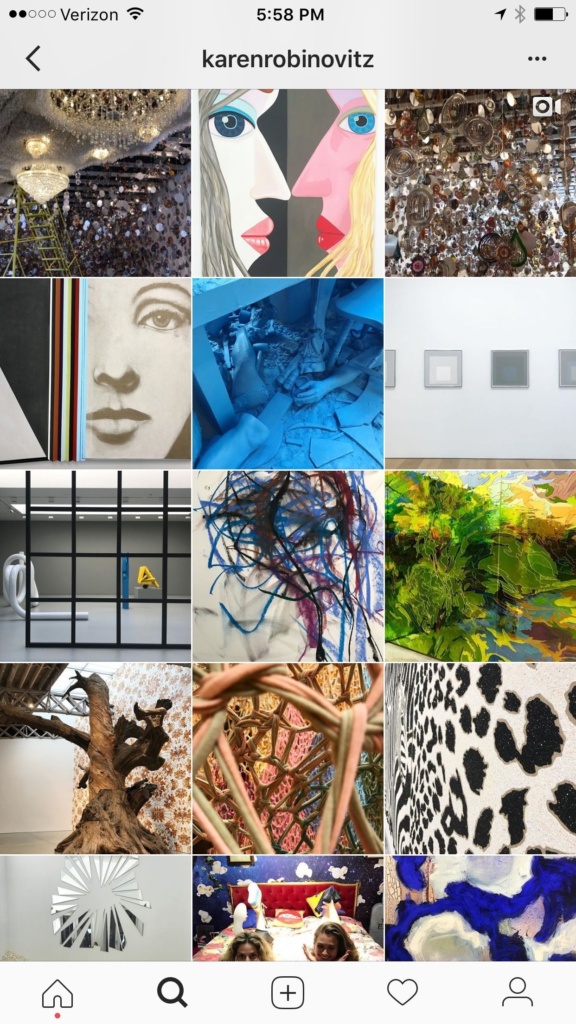 Embrace Empty Space
We're all for mixing prints, but when you have a lot of busy photos near each other, it can be good to throw in a quieter photo or two. Plus, it's an easy way to add a pop of color to your grid.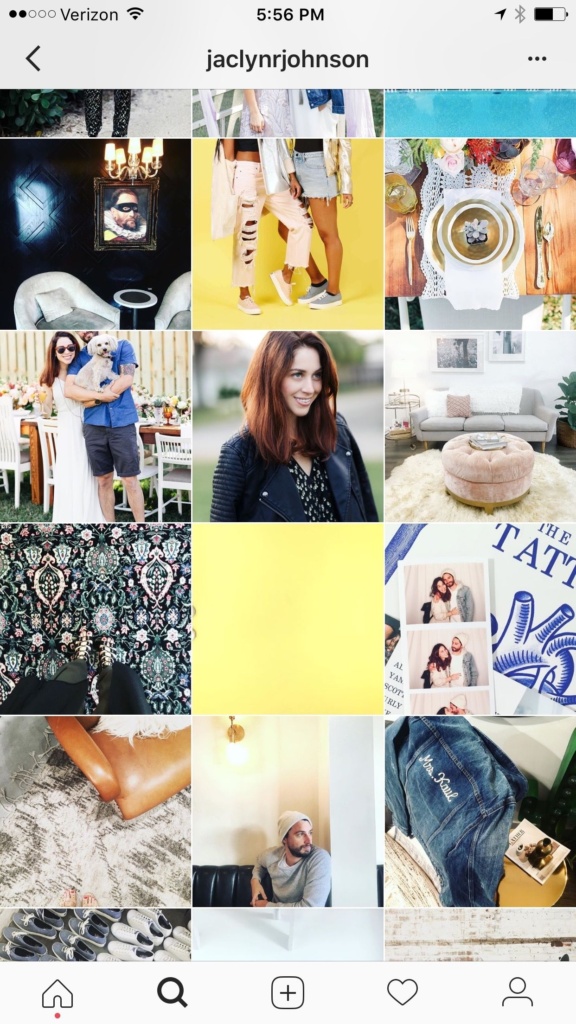 Pick A Filter & Color Scheme
Create your own filter using apps such as VSCO or Afterlight, or use the same filter within Instagram. Doing so will help to make each one of your photos look like it belongs on your grid and your grid only.
Another unifying trick: Play with similar colors. "Most of my photos have a lightness, and I favor muted pastels," says Taylor Sterling, founder of lifestyle blog Glitter Guide. "However, I don't get so strict that I only do one color vibe. If you scroll down my grid, you can see transitions in the colors. Right now I have a lot of light lavender, pinks, beiges, but sometimes it will favor brown, or a lot of pink, or more bright colors."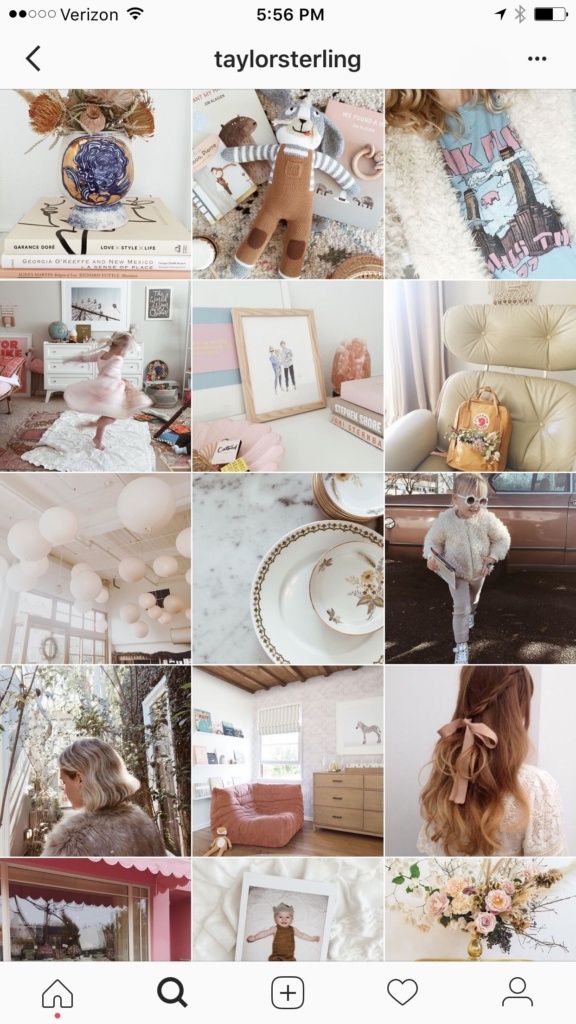 Go Black & White (& Gray)
If you want to take a more drastic approach to your color scheme, pick black, white, and neutrals. While this takes a lot of commitment on a daily basis (unless you already tend to wear those colors), your feed will look pleasingly minimalistic — and very runway-ready.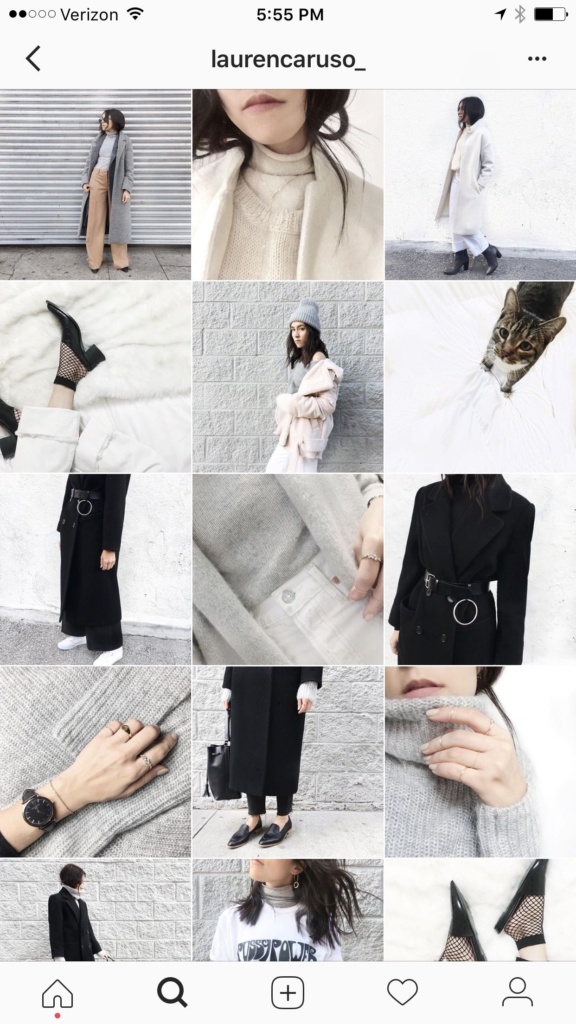 This article originally appeared on Refinery 29