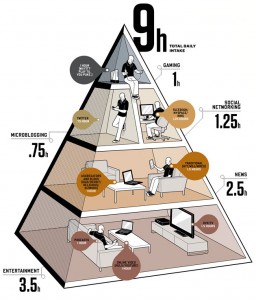 "Social media is just for young people."
"I just check Facebook once in awhile."
"Social media is cool, but it won't make my business money."
These types of statements were probably true five years ago, but the game has changed.  People – regardless of age – are spending more time on social media networks than ever before, and the numbers just keep going up.  Check out these telling facts:
AGE:  Did you know that 60% of Facebook users are between the ages of 25 and 54, and 42% are OVER the age of 45?  Does that sound like "just for young people?"  Sites like Twitter and Pinterest also measure up, with 62% of Twitter users being over the age of 35 and 80% of Pinterest users between the ages of 24 and 54.
TIME: Of the 9 hours that the average American spends in front of some kind of screen, 2 hours of that are spent on social media networking sites (Facebook, Twitter, blogging, etc.).  Plus, according the latest Nielsen Report, Americans spend more time on Facebook than any other U.S. website!
REVENUE: Okay, so social media is great, but will it make your company money?  Social Media ROI is a huge topic these days, and for good reason, but the numbers tell it best:  Dell made $6.5 million through its Twitter account alone in 2009.  Plus, on average at least 60% of businesses acquire new customers through the various social networks.
Does that paint a bit of different picture?  Social media has indeed completely changed how we interact and communicate, both personally and professionally.  Isn't this a wagon you should be on, if you're not already?